"Industrial sewing machines are designed to be run at higher speed so that higher productivity can be realized, especially for mass-production. High quality industrial sewing machines are equipped with state-of-the-art technologies for stable production of better quality garments. Further enhancement of quality and productivity can be achieved when attaching various deskilling and labor saving devices which automates and standardizes manual operations.
Precise machining, manufacturing & quality management system

High quality industrial sewing machines employ precisely processed parts, manufacturing process with professional care and state-of-the-art quality management system. Some industrial overlock machines can run at more than 8,000 stitches per minutes speed. In order to make up neat seaming at such high speed, it is very important that each part must surely catch sewing threads. In order to realize that, key parts of those machines are designed to pass each other in every 7/1000 second with almost zero clearance. Quality of those key parts are defined and managed in micro meter level. High precise parts, professional manufacturing and quality management system enables high speed running for better productivity.
Realize better quality and productivity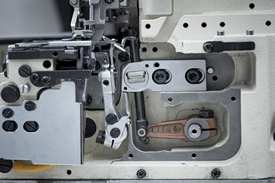 High quality industrial sewing machines are equipped with various technologies for better quality apparel. For example, Yamato's SPEED & DRY technology. Preventing oil stains from sewing machines is very important to maintain quality of apparel products. However, several sliding parts like needle bars and looper mechanisms must be exposed because of interections with fabrics.
State-of-the-art coating technology, signature sealing technology and lubricating section design enabled Yamato to realize the world's first sewing machine running at an ultra high speed with the micro lubirication technology. The micro-lubrication technology confines lubrication oils inside the machine so that high quality apparel products free from the leaked oil can be achieved."
Source: Yamato Solution Provider (www.yamato-sewing.com/en/product/indurstrial-sewing-machine/)
Dunlap Sunbrand International, Inc. is proud to be a top Yamato Solutions Provider world wide. Providing high-quality industrial sewing machines from Yamato to fit all your sewn products industry needs!
Check out our DSI Guides section for parts lists and manuals.
Please Contact Your Preferred DSI Sales Office for All Your Yamato Needs!